Prepare for Wildland Fire Season Now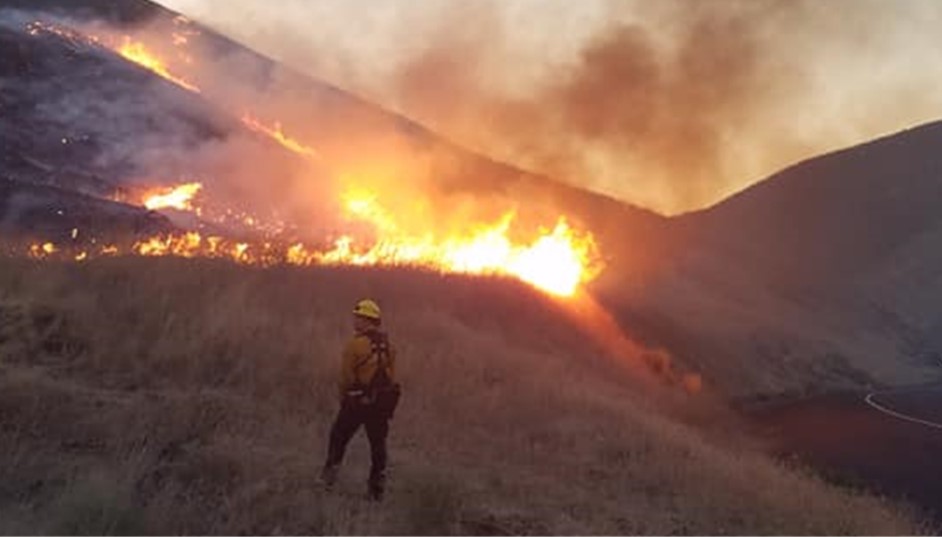 Last year was the worst year on record for wildland fires in the United States many of which were in the Northwest. The Congressional Research Service reports that more than 58,250 wildfires burned 10.3 million acres, the most acreage impacted in a year.
Many wildland fires are started accidentally when property owners burn debris from yard waste and it gets out of control. Benton County Fire District 4 has responded to several vegetation fires so far this year.
Chief Paul Carlyle says that this is a good reminder for homeowners to prepare for wildland fire season early. Rain and snow allow brush to grow and die off quickly in the spring, which provides fuel for wildland fires in the summer and fall months.
"All indicators point to the fact that this is going to be a challenging fire season," said Chief Carlyle. "Our ability to protect a property is directly linked to what homeowners do to prepare now for this type of emergency."
It's important to see if and when you can burn to avoid fines. Information can be found through the Benton Clean Air Agency: bentoncleanair.org/burning/burndecision/. These regulations are in place to limit the impact of smoke to the region and ensure there is an adequate emergency response if a fire needs controlling.
A few steps can also reduce the risk of wildland fire to your home or property. To begin with, firefighters need to be able to locate you in case of a 911 call. Have your address posted on your driveway entrance as well as your house. Be sure to provide good access to your home and/or shop that allows firefighting apparatus the ability to access, turn around and leave your property.
What a homeowner may regard as just an overgrown bush near their garage (or long grass in the yard) is actually a quick burning fuel source. For firefighters, this could mean a long fight to save the home if this fuel source should ignite. Creating a "fire barrier" to homes and outbuildings is critical. Some simple tips to protect structures are as follows:
Maintain a 30-foot defensible space around your home.
Keep lawns well-watered.
Prune or remove combustible trees or shrubs close to your home.
Clean gutters and roofs of any debris regularly.
Screen off crawl spaces, attics and decks to keep them free of debris, as well as any flying embers.
Do NOT store combustibles, such as wood piles, under your deck or near your home.
More information can be found on Benton County Fire District 4's website at www.bcfd4.org. Other resources for property owners are available through the National Fire Protection Association (www.nfpa.org) and Ready.gov (www.ready.gov/wildfires).